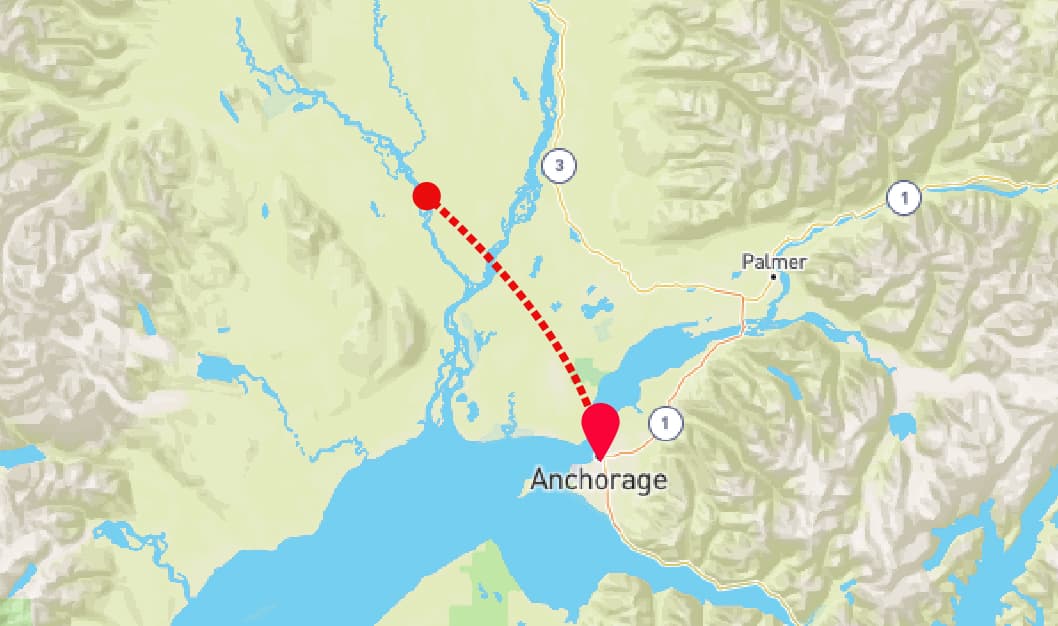 Fishing Availability
May
June
July
Aug.
Sept.
King Salmon
Red Salmon
Silver Salmon
Chum Salmon
Pink Salmon
Arctic Grayling
Northen Pike
Rainbow Trout
Note: King Salmon season closes July 13.
Overnight Cabin Packages
Rainbow Trout Lakes
$595 per person + 3% transportation tax
PLEASE NOTE: Due to the unprecedented rise in fuel cost, a 6% fuel surcharge will be added to all reservations in 2022
Pike Lakes
$695 per person
3% Transportation fee per person.
Salmon/Trout/Grayling Streams
$795 per person
3% Transportation fee per person.
3 Night Guided Fishing Combo at Rust's Flying Service Cabin

For those with time to enjoy a multi-day excursion, Rust's fly-in fishing cabins and tent cabins offer privacy and comfort. Located on some of Alaska's premier lakes and streams, Rust's cabins assure you the perfect combination of comfort and wilderness adventure.

*Please call for pricing.

Trip price includes:

Three days & nights at a salmon/trout/grayling cabin
One full day of professional guiding service
Roundtrip floatplane flight from Anchorage
Fishing gear (guided day only)
Courtesy airport and/or hotel transfers

3 Night Alaska Fly in Fishing Lodge

For the best in service and amenities, Rust's takes you to Alaska's finest remote fishing lodges. Once there, you'll enjoy world-class salmon, trout and grayling fishing with your experienced, personal guide. This is a true northern adventure featuring spirited Alaska hospitality.

*Please call for pricing.

Trip price includes:

Three nights lodging plus all meals
Full-time professional fishing guide service
Fishing gear
Fish packaging
Round-trip floatplane flight from Anchorage
Courtesy airport/hotel transfers

Prepare for a great trip!

Prepare for a Great trip! We think that the best way to enjoy the flight is to think of questions for your pilot. The Rust's pilots know a lot about Alaska and the area they fly over. The microphones are voice activated and work when they are almost touching your lips. You will get a more personalized tour if you ask questions!

You will be in a plane for about three hours total so we recommend using the toilet before the tour. Rust's toilets located in the hanger building, the red doors across from the office.

Remember to charge your camera batteries and ensure that you have enough video. We do have tips on taking photos from planes in the FAQ section. It's best to dress in layers; the planes are heated and can get quite warm from solar heat in the summer. Flat heeled, sturdy shoes are best since you will be climbing in and out of a plane. Strap cameras and valuables to yourself before getting in and out of planes. Pilots don't dive for items dropped in the lake. Rust's makes a stop on the tour. It's fun and helps to stretch your legs on this extended plane ride. The pilot picks the stop based on time of year, weather and scenic possibilities. It's ok to bring a non messy, non smelly snack with you. It's also optional to tip the pilot.
Overnight Fly in Fishing Adventures – 3 different options
If you have several days, fishing experience, and you plan to bring your own fishing gear, consider our 3-night Fly in Fishing & Cabin package. If you need fishing gear and guide service, but would like to be on your own, we offer a 3-night Guided Alaska Fly in Fishing Combo package that allows you to stay at one of our remote fly in fishing cabins and fix your own meals, but includes an experienced Alaska fishing guide.
For the ultimate service, amenities and Alaska hospitality, we recommend our all-inclusive 3-night Alaska Fly in Fishing Lodge package. This package includes accommodations at one of Alaska's finest remote fishing lodges, meals, fishing gear, an experienced Alaska fishing guide and round trip flight from Anchorage.