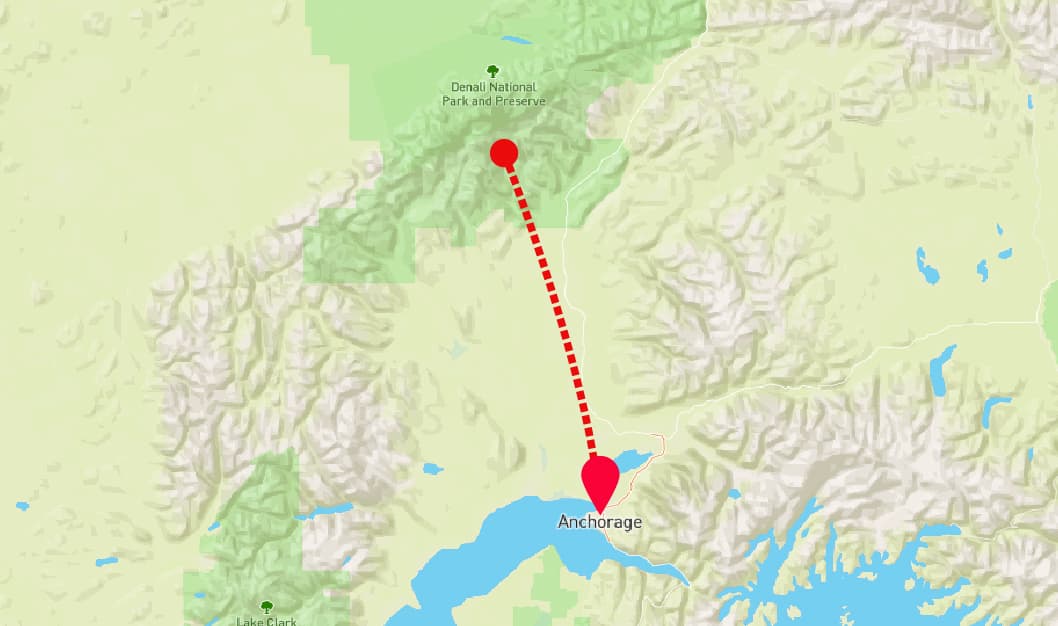 Discover Denali National Park
$525 per person + 3% transportation tax
Trip Time:
3 hours - Includes photo-stop landing
Highlights of the Denali Flightseeing Tour:

Fly over vast Alaska wilderness untouched by modern man
Soar above open alpine tundra and glacier-fed, braided rivers
Watch for moose, bear, swans and the occasional wolf or coyote
Explore the incredible glaciers, peaks and valleys of Denali, North America's tallest mountain
Tokosha Mountains and the winding Tokositna Glacier
Marvel at Ruth Glacier, a 40-mile-long glacier that flows through the granite-walled Great Gorge – the world's deepest trench
Observe how the ebb and flow of ancient glacial ice shaped the landscape
Spot cascading ice-falls and the occasional plummeting avalanche
In summer enjoy a remote lake landing on floats or once lakes have frozen over on skis in winter
When lake stop is not available (primarily winter months), enjoy a visit to our sister company office, K2 Aviation in the quaint town of Talkeetna

Your Denali Flightseeing Tour Includes:

A window seat and 2-way headset to communicate with pilot and fellow passengers
Rich knowledge (and personality) of an expert Alaska bush pilot
Rust's meticulous attention to comfort and safety
Complimentary  coffee, tea, or cocoa available at our offices
Free shuttle service to and from area hotels and airport (summer only)

Flight pattern

Depart Lake Hood, Anchorage's lively seaplane base, traverse the flatlands across Cook Inlet (possible Beluga whales), spotting for moose and, depending on the time of year and weather, follow the rugged spine of the Alaska Range with its massive walls of rock and ice to the crowning jewel, Denali (formerly Mt McKinley). The photo stop landing location varies seasonally and is dependent on weather.
Denali in a day! Tour North America's tallest peak on this one-day adventure from Anchorage
At a formidable 20,310 feet tall, Denali (formerly Mt. McKinley) is the centerpiece of Denali National Park, and you'll get the best view on a Denali flightseeing tour with Rust's! Soar to new heights on the intimate, 3-hour Discover Denali Flightseeing Tour with an experienced Alaska bush pilot who loves to share Alaska's most inaccessible and spectacularly-wild settings. This is one of our most popular tours.